In 2021, most users search on mobile devices, a trend that will only continue to grow. If your website is optimized exclusively for desktop or laptop viewability, you will likely lose most potential customers. Google's upcoming Page Experience Update will further prioritize its mobile experience and more heavily impact your website's ranking. Roofers who are serious about lead generation must invest in a mobile-friendly roofing website and do so immediately.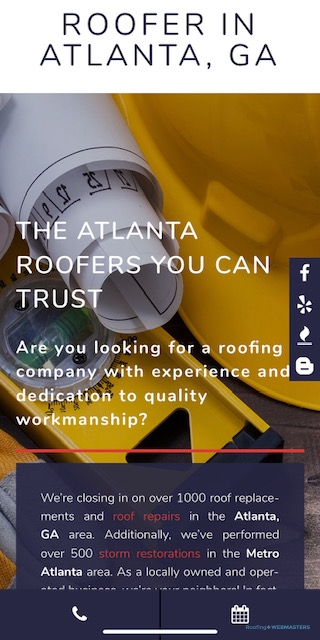 Roofing Webmasters Designs Mobile-Freindly Websites That Adhere to Google's Guidelines
Local consumers now depend on their smartphones to locate goods and services, and roofing services are no exception. A smartphone is accessible 24/7, from airports to offices. Therefore, to get the clicks and ranking you're looking for, your company's roofing website must be mobile optimized for the best results. Every mobile-optimized website should feature these elements:
Click to Call: Phone number links which connect customers via cell phone
Navigation: Seamless navigation conducive to finger scrolling
Speed: Fast loading pages which incorporate AMP technology
Viewport: A balanced display distribution that fits a mobile screen
Local SEO is also heavily dependent on a mobile-friendly experience, and websites that cater to mobile users should expect an increase in search ranking. Google prioritizes user experience, so, unsurprisingly, they would favor websites that cater to their audience. When users perform a search query on Google, the top three results, or the Google 3-pack, are chosen partially by mobile optimization qualities. If you're serious about generating local roofing leads online, the time is now to invest in a mobile website from Roofing Webmasters.
Google AMP For Roofing Websites
Google's open-source initiative, Accelerated Mobile Pages, encourages web developers to create pages with stripped-down HTML, to enhance your viewers' mobile experience. AMP's are said to improve page speed by up to 85%. In addition to faster web pages, Google AMPs also features mobile advertising enhancements. The same HTML parameters can be used for mobile roofing ads, creating more immediate loading advertisements with higher click-through rates. Other incentives for using AMP's include:
Lower Bounce Rate: Keep visitors on your website longer
More Conversions: Convert more visitors into customers
Faster Site Speed: Load web pages faster
Improved SEO: Appear higher on local search results
It's risky to ignore anything championed by Google since it is the leading platform for acquiring roofing leads. With that said, there is some disagreement about the value of Accelerated Mobile Pages for your roofing website and whether or not they are suitable for web design. Roofing Webmasters monitors the situation closely to keep our clients in adherence to Google guidelines while simultaneously attracting the most relevant traffic with the highest conversion potential.
Increasing Mobile Conversions
A useful mobile roofing website has a clear and convincing call to action (CTA) that spurs conversions. By partnering with Roofing Webmasters, you receive a custom mobile-friendly website equipped with multiple engaging CTAs. Mobile users who browse your roofing website will be led through each page by links to new and relevant information with various click-to-call, appointment scheduling, and email opportunities along the way. When viewers see multiple options and avenues of contact, conversion rates are known to skyrocket. Phone number links, the top actionable completion tools, cater to all the user's primary needs, which are speed, convenience, and relevance.
In addition to click-to-call functionality, our content team fills your website with mobile-friendly content that's interesting and compelling. It might seem trivial, but mobile content requires a different set of parameters than desktop material. This attention to detail separates great roofing websites from those that never see the first page of a SERP. As part of our mobile content marketing, we incorporate local and industry keywords based on market research and industry trends.