Most website visitors are coming to your roofing page through a mobile device. Mobile usage surpassed desktop usage way back in 2016 and the disparity has only grown greater in 2021. Roofers should focus on mobile-first websites that capture a user's interest on the go. Google has helped define the pivotal moments in a mobile user's journey as micro-moments. Google highlights 4 moments that are crucial within the context of mobile marketing. They are:
Want To Know: The user is exploring or researching a topic
Want To Go: The user is seeking direction to a local establishment
Want To Do: The user needs help performing an action
Want To Buy: The user is ready to spend money on goods or services
These moments are defined as micro because they only exist for a short period of time. If your roofing company does not meet the user's need as it happens they will quickly move on to the next option (oftentimes a competitor). Roofers must be enthusiastic about meeting consumers at their preferred destination. In 2021, information is expected fast, and it is the job of contractors to provide it conveniently. The window closes as fast as it opens.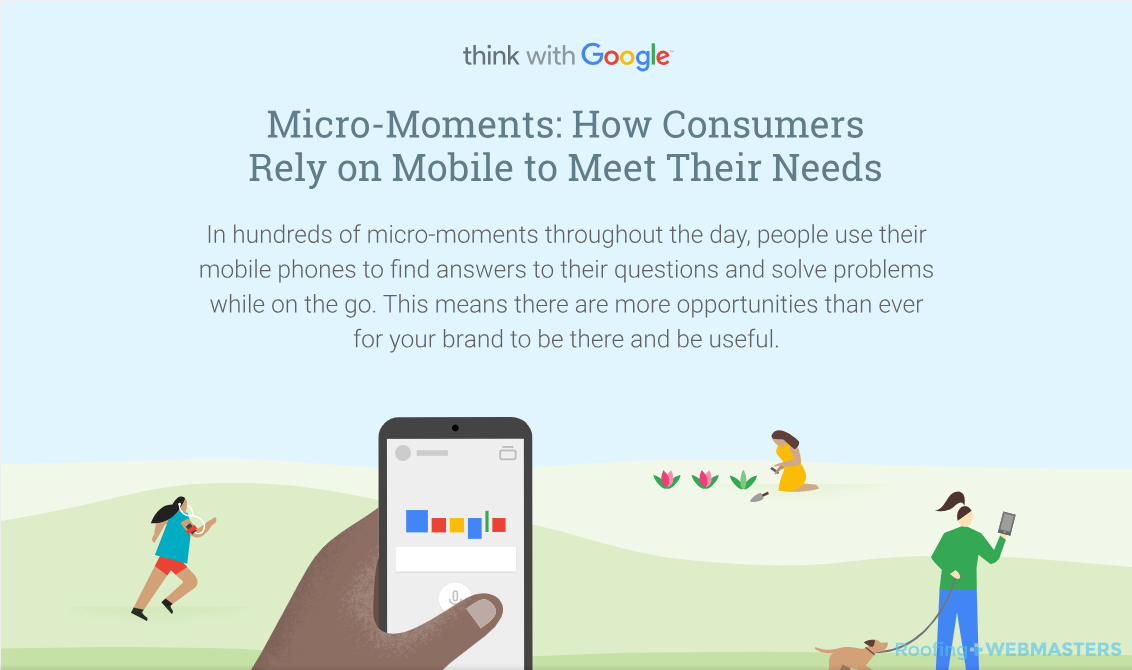 Source: Think With Google
How Roofers Should Optimize Micro-Moments
Internet users expect relevant information at their fingertips. Google has made it its mission to provide that as frequently as possible. Roofing companies who satisfy a user's need on the spot will have an advantage over competitors who lag behind in this area. Attention spans have grown shorter and standards for mobile performance have increased. When considering all of these things, roofers have pressure on them to meet user demands in a timely manner. Here's how you can achieve your goals:
Anticipation: Project your audience's needs in advance
Accountability: Take ownership of your initiative, and cater to various devices
User Experience: Create the best possible user experience
Mobile-friendly websites are now an afterthought. In fact, websites without mobile features rarely exist today. If they do, it is unlikely that they rank well for any search term because users are simply not interested in navigating their pages. But mobile optimization has become more advanced in recent years so simply having a mobile website is no longer enough. Nearly 67% of smartphone users are more likely to purchase from companies whose mobile sites customize information to their location. Enhancing user experience with location data can separate you from other roofers in 2019.
The Psychology of Modern Roofing Consumers
Targeting the right micro-moments is important for ROI for roofing companies. When reviewing the 4 primary moments, the Want To Buy moment is the most relevant. Consumers who are at this moment are ready to purchase roofing services. Understanding their point in the user journey can help instruct the information you should provide to them. When consumers are ready to buy what they really want to see is contact information. They want to know how to reach you and be able to do so quickly.
Other kinds of industries have even more on their plate than roofers when it comes to micro-moment optimization. As a roofing contractor, you aren't expected to write a manual on how to fix a roof. In fact, doing so might have an unintended consequence of drawing in DIY visitors who are not looking to spend money on services. This kind of traffic is known as empty traffic because while it increases website visits it does not increase sales or conversions. Targeting the right kind of traffic yields the greatest ROI.
Call (800) 353-5758 to Learn More About Mobile Micro-Moments