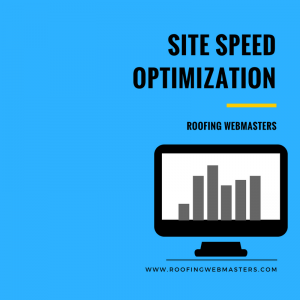 Website speed matters more in 2020 than it ever has before. The internet is increasingly mobile-centric and users expect instantaneous information at their fingertips. Since Google prioritizes user experience over all else, site speed plays a role in search engine optimization. Several surveys suggest that almost 50% of users expect websites to load in 2 seconds are less.
Imagine losing half of your leads because your web page takes 3 seconds to load. In today's landscape of instant results and details at your fingertips, slow load times can be detrimental to your online marketing campaign. You can avoid that fate with website speed optimization completed by the Roofing Webmasters experts. We work to reduce your website load speed with:
Clean Coding: Absence of obtrusive code elements in the design stage
Image Compression: Shrinking image files to promote faster loading
Responsive Design: A design methodology aimed to speed up pages on all devices
Testing/Measurement: Utilization of speed test tools
The speed of your website is founded in its design stages. Clean code development sets the foundation for a fast website and responsive web design ensures that it only requires one website for all devices. When adding content such as images and videos, compression is ideal, since it promotes faster loading pages and the enhancement of user experience. Since all web elements are related, it's best to have one company handle your design, optimization, and maintenance.
Google Speed Tools
Google has made its initiative to improve site speed, particularly on mobile devices, abundantly clear. In addition to their collaborative project with various web entities; Accelerated Mobile Pages, Google has released several free tools to test mobile site speed and to gauge its consequences. Most recently, Google has introduced a Speed Scorecard and Impact Calculator to help websites start winning on mobile. A list of the most relevant Google speed tools are as follows:
Impact Calculator
Page Speed Insights
Test Your Mobile Speed
Speed Scorecard
With the world's top search engine providing multiple resources to facilitate faster load times for your web pages, if your website isn't mobile-friendly, it's almost impossible to keep up with your competitors in the digital world. Roofing contractors often don't have the time, knowledge, or resources to perform these tasks themselves, which makes delegating those responsibilities to a trusted SEO company like Roofing Webmasters critical. Speeding up your website in 2020 can have a major impact on your revenue this year and beyond. The time to get started is now.
What Slows Down Roofing Websites?
Website speed optimization starts in the design stage, but several other factors can slow down a website or any of its individual pages. Consider uncompressed images, server issues, hosting problems, and obtrusive JavaScript as some of the most notable perpetrators. Shared hosting is usually the most inexpensive host plan on websites like HostGator and GoDaddy, but it can also produce the slowest loading websites. Make sure you consult with an SEO expert before choosing a host.
Lack of responsive design is another possible cause of a slow website. If you have a separate site for mobile and desktop, it can take longer for each of them to load on their respective devices. With responsive web design, your site is programmed to automatically adjust to the device that it's being viewed from to eliminate slow load times and lost information.
There are multiple tactics that can be utilized to get faster load speeds from your roofing website. Roofing Webmasters has the knowledge and know-how to create and implement a plan to get your site loading faster for more traffic and higher conversion rates. Our team is composed of some of the best web designers in the industry, and we are eager to help you get started today.