Your website is the foundation of your roofing company's online presence. The problem is that too few sites are structured in a manner conducive to search engine optimization. One of the most overlooked elements of good SEO today is a proper website structure. Your roofing website should be arranged with multiple page levels that are structured to be easily navigated and flow well into each page's new information.
Implementing a researched page structure on your website can facilitate crawling and indexing, leading to increased search visibility. An effective page structure also enhances the user's experience by providing an easy-to-follow page flow. Google rewards websites that cater to the user's needs. For your roofing website's structure to be effective in SEO, it should be:
Deliberate: Each page should flow seamlessly into its connected pages and sources.
Hierarchical: Top-level general pages should flow into more detailed lower-level pages.
Navigable: The user should be able to easily navigate to each page and back home.
Researched: Proper research should be completed to discover the ideal layout for your site.
Part of an effective structure is internal linking. WordPress content management system supports seamless integration of internal links which can foster greater user engagement, and influence website performance metrics, such as; time on page, pages per visit, and bounce rate. Improving these metrics signals to Google that your site warrants an increase in SERP position. As explained here by Yoast, your site structure should be well-planned and organized for ultimate "usability and findability".
Finding the Right Website Structure for Your Roofing Company
Site structures vary, depending on the types of services or products offered. For roofing companies that perform both residential and commercial jobs, each will have its own top-level page, with subcategories of both serving as lower-level pages, underneath the top levels. Website structure keeps your URLs and content organized, promoting an improved user experience and an increase in website performance metrics. Google crawls and indexes pages based on URLs, so organizing yours facilitates proper indexing. An example of an effective website structure for roofers is:
Main: Home, About Us, Contact Us
Top Level: Residential Roofing, Commercial Roofing
Low  Level: Flat Roofing, Metal Roofing, Shingle Roofing, Tile Roofing, etc.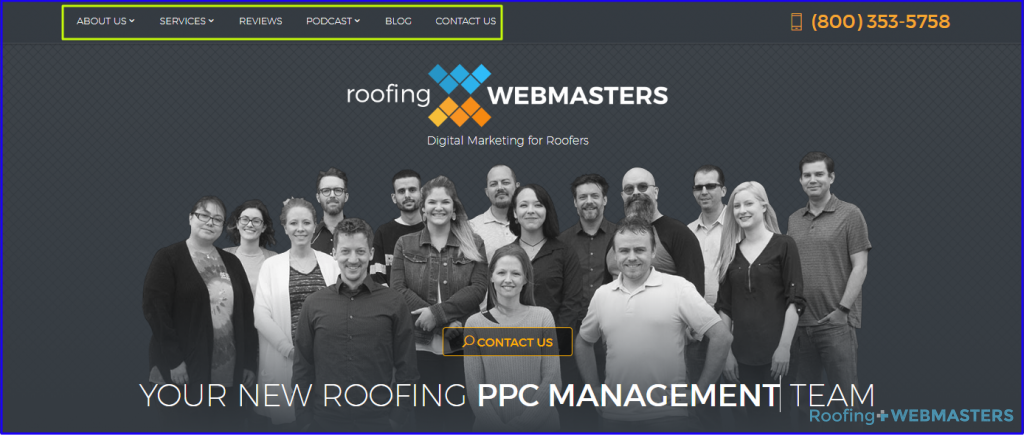 URL composition is critical to site crawling and indexing. For SEO purposes, URL's should be as concise and clear as possible, so crawls can be performed faster, and indexing never cuts off addresses that are too long. For example, RoofingWebsite.com/commercial/flat-roofing would be the URL for your site's flat roofing page. User's on the page know exactly where they are with indicative words like "commercial" and "flat roofing" without going into too great of detail, which would disturb the crawling process. Your pages should also have a clear path. Lower-level pages should enhance their top-level counterparts with clear information that supports the top-level page.
Correct Website Page Structure: YourRoofingCompany.com/Residential/Wood-Shake-Repair
Incorrect Website Page Structure: YourRoofingCompany.com/Foam-Roof/Commercial-Repair
In this example, the first option provides a clear path to more focused material. The second option presents detailed material before a more general topic, which may leave visitors and search bots confused about content navigation.
Does a Roofing Contractor Need Website Structure?
To maximize ranking potential, the answer is yes. Google web crawlers interpret website data and index it accordingly. Having a deliberate and sound website structure facilitates proper indexing. The web designers at Roofing Webmasters possess the skill and dedication to craft a superior structure for your roofing website. Our years of experience handling digital marketing services for roofers give us an edge over other marketing companies that work with all types of industries. We can help you get started today.
Google now offers enhanced search results that provide page links to some SERP listing sites. For your site to be selected to display site links it must have a site structure deemed exemplary by Google, as well as structured data markup, an additional service offered by Roofing Webmasters. These combined actions improve your website's overall search visibility and click-through rate.